Pimples and oily skin afflict individuals of all ages. Oily skin produces too much sebum, causing blocked pores and pimples. Acne occurs when dead skin cells and oil clog hair follicles. This causes pimples, blackheads, and whiteheads. Acne on oily skin can be difficult to manage, but with the proper measures you can achieve clear, healthy skin. This piece will give you an outline of the effective oily skin treatments for acne-prone skin and ways to deal with acne on oily skin.
 Causes of Oily Skin Acne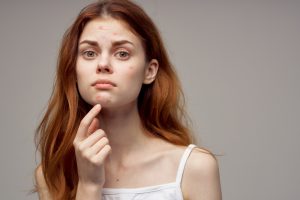 Acne on oily skin may be caused by a variety of factors. These things are:
1- Genetics: 
Some people are more likely to have oily skin and acne because of their genes.
2- Hormones: 
The body may create too much sebum due to hormonal changes during adolescence, menstruation, pregnancy, and menopause, which may result in acne.
05 Best Affordable oily skin products for a budget-friendly routine 
3- Diet: 
Some foods, like cheese and foods with a high glycemic index, have been linked to acne and more sebum production.
4- Skincare routine:
Your skin's natural oils might be taken away if you use the incorrect skin care products or wash your face too often. This can lead to more sebum production and acne.
To develop an effective treatment strategy for your oily skin acne, you must first determine what is causing it.  A dermatologist can help figure out what's wrong and suggest effective oily skin treatments for acne-prone skin.
Skincare Routine for Oily Skin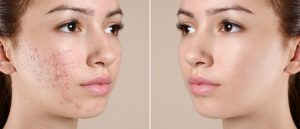 Taking care of pimples on thick skin requires good skin care practices. The actions you need to do are as follows:
1- Cleansing:
To clean your face, use a light cleanser made for oily skin. Avoid strong scrubs and washes that can take away your skin's natural oils and make your face red and irritated.
2- Toning: 
Use a toner to help keep your skin's pH level in check and get rid of any dirt or oil that is still on it.
The Benefits of Using Vitamin C Serum for Acne-Prone Skin | FAQs 2023
3- Moisturizing: 
To keep your face hydrated without closing your pores, use a light lotion without oil.
4- Sun protection: 
Sunscreen with an SPF of 30 or higher is recommended to avoid skin cancer. Effective oily skin treatments for acne-prone skin include salicylic acid, benzoyl peroxide, and retinoids. These chemicals can help open up clogged pores, reduce redness, and stop oil from being made. However, if you have delicate skin, you must use care while using new products. Test any new items on a small part of your face first to make sure you don't have an allergic reaction. Keep your hands away from your face and wash them often to avoid spreading acne-causing bacteria.
Acne Treatment Options for Oily Skin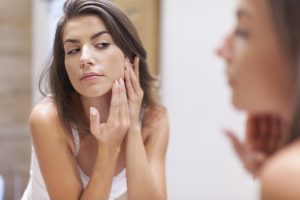 Oily skin has a number of acne treatments to choose from. The best solution relies on how bad the acne is and what kind of skin the person has. There are some options:
Over-the-counter medicines for the skin:

Products including alpha hydroxy acids (AHAs), salicylic acid, and benzoyl peroxide could help calm redness and swelling, clean up pores, and avoid acne from improving.

Prescription treatments for the skin:

Acne may be treated with topical retinoids like tretinoin, adapalene, and tazarotene by increasing cell turnover in the skin, which in turn reduces irritation.
The Best Time to Apply Vitamin C Serum in Your Skincare Routine
Oral medicines:

Antibiotics such as tetracycline, doxycycline, or erythromycin may be prescribed by your dermatologist to decrease irritation and kill acne-causing bacteria. Oral contraceptives can also help women control their hormones and get rid of pimples.

Procedures for acne scars:

Those with severe acne or acne scarring may benefit from chemical peels, microdermabrasion, or laser treatment to reduce the visibility of their scars.
It's important to talk to a doctor to figure out which treatment choices will work best for your effective oily skin treatments for acne-prone skin.
Tips for Preventing Oily Skin Acne 
Acne on sticky skin is always easier to avoid than to get rid of once it shows up. There are some ways to avoid acne if you have oily skin:
1- Avoid touching your face: 
Your face's pores may get clogged by germs and oils from your hands.
2- Use oil-free makeup: 
By avoiding clogging your pores, look for cosmetics that claim "non-comedogenic" or "oil-free."
3- Cleanse your face regularly:
To remove debris, oil, and makeup from your face, wash it twice a day.
4- Use blotting papers: 
Keep blotting papers on hand to quickly soak up oil and stop shine all day long.
Lightweight Serums for Hydrated, Non-Greasy Skin | 5 Unique Serums
5- Avoid picking or squeezing pimples:
This can leave scars and cause more acne to show up.
6- Change your pillowcases regularly:
They can hold germs and oil that can get on your face while you sleep.
7- Don't over-wash your face:
Don't wash your face too much. Doing so can strip your skin of its natural oils, which can make it make more sebum.
By using these tips and living a healthy life, you can lower your chances of getting oily skin pimples and help your face stay healthy and clear.
Conclusion
Effective oily skin treatments for acne-prone skin can involve a multifaceted approach.In Conclusion, using salicylic acid, benzoyl peroxide, or retinoids in skin care items, medical treatments and changes to your lifestyle can also help. Talking with a doctor or specialist might help you choose which therapies are best for you. Along with treatment, it's important to make changes to your lifestyle, like living well, dealing with stress, and not picking at or touching your skin. Sunscreen is great for protecting your skin from the sun, but it may also help avoid acne and skin damage. If you treat acne on thick skin in a thorough way, you can get a healthy, clear face and feel good about your skin.