Oily skin is a common skin problem that affects people of all ages and skin types. It happens when the sebaceous glands in the skin make too much oil, which can make the skin look  Shiny and greasy and make other skin problems like acne and swollen pores worse. To treat oily skin effectively, you need to know the causes of  oily skin. This lets you use the right skincare routine and make changes to your lifestyle that can help you deal with the problem. In this piece, we'll talk about what causes oily skin, how it affects the skin and good ways to deal with it.
Causes of Oily Skin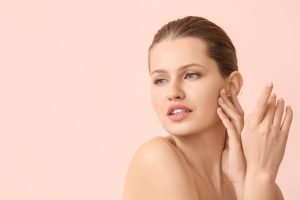 There are several things that can cause your skin to get oily. Some of the most popular reasons are:
1- Genetics and Hormones
Some people just have oily skin because of how they were born, and changes in hormones can also cause sebum to be made. For example, during puberty, the body's steroid hormone levels rise, which can make the oily glands make more oil.
2- Overactive Sebaceous Glands 
Sebum from sebaceous glands keeps skin moist. Oily skin may result from overactive glands. Sebum, produced by small sebaceous glands in the skin, keeps the skin wet and protected. Overworked glands produce too much sebum, making the skin greasy. Find the correct skincare and lifestyle choices for your skin type to regulate excess sebum glands.
The Ultimate Guide to Serums for Oily Skin: 5 Tips and Recommendations 
3- Poor Skincare Habits 
Oily skin can also be caused by not washing and moisturizing the skin well enough. If you don't wash your face well, dirt and oil can build up on the surface of your skin, clogging your pores and causing acne.
4- Climate and Environment
Humidity, heat, and pollution can all make your face oilier by making your body make more sebum.
5- Diet and Lifestyle Factors
Stress and not getting enough sleep can both cause sticky skin, as can eating a lot of processed foods and refined carbs. Knowing these things can help you figure out the best way to deal with oily skin.
Effects of Oily Skin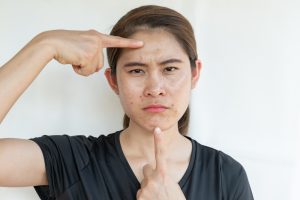 There are a few things that can happen to the face when it is oily, such as:
Acne and Breakouts

: Acne and breakouts are more likely to happen on oily skin because extra oil can block pores and trap dirt and germs.

Increased Sebum Production:

Increased Sebum Production: People with oily skin make too much sebum, which can make their skin look shiny and greasy.
Everything You Need to Know About Hyaluronic Acid Serums | Top 5 Benefits
Enlarged Pores:

As sebum builds up and stretches the skin, oily skin can cause pores to get bigger over time.

Dull, Shiny Complexion:

If you have too much oil on your skin, it can make your skin look dull and shiny. This is especially noticeable in photos or in bright light.
When people know how oily skin affects them, they can take steps to control it and keep their skin from getting worse.
Solutions for Oily Skin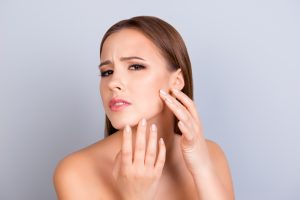 There are a few good ways to deal with sticky skin, which is good news. Some of the most well-known are:
1- Proper Skincare Routine: 
If you have oily skin, you need regular skin care practice. This includes washing the skin twice a day with a gentle, oil-free cleanser, using a toner to get rid of extra oil, and moisturizing with a light, oil-free moisturizer.
2- Use of Oil-Free and Non-Comedogenic Products: 
Using products that don't contain oil and don't cause acne can help reduce the amount of oil on your skin and keep your pores from getting plugged.
3- Exfoliation and Masks: 
Using a gentle cleanser on your skin on a daily basis can help get rid of dead skin cells and clear pores. Using a clay or charcoal mask once a week can also help get rid of extra oil and clean the skin.
10 Best Hydrating Serums for Dry Skin: Say Goodbye to Dryness
4- Dietary and Lifestyle Changes: 
Eating a healthy diet and staying refreshed can help you deal with oily skin. Getting enough sleep, lowering your stress level, and not smoking can also help your face look better.
5- Medical Treatments: 
A doctor may suggest retinoids, chemical peels, or laser therapy for oily skin that is very bad.
Conclusion
In conclusion, having oily skin can be annoying and uncomfortable, but it's important to know that it's a normal problem that many people have. By figuring out causes of oily skin, people can take steps to deal with it well. Using oil-free and non-comedogenic products, exfoliating and using masks regularly, making changes to your food and lifestyle, and getting medical help are all good ways to deal with oily skin. To find the right answer, you need to be patient and determined, and if you need to, you should consult a doctor. With the right care and attention, you can get healthy, glowing skin even if you have oily skin.